SSL Encryption Included Free

2048 bit encryption SSL certificates from Amazon Web Services for all domains.
Sale encryption level as online banking websites.
No need to purchase SSL certificates every year.

User Security

Multi-Level Security Model
Applications, Groups, Departments, Roles, and Admin levels of access to permits users to edit only what they are supposed to.
User Groups and Draft-only options for control of who can post content.

Non-Destructive Deletions

Data deleted in the system by users isn't physically deleted ever.
Administrators can reactivate deleted pages and data.
Ensures FOIA compliance.
Have multiple domain names? You can use them all with us easily.
The incredible flexibility that we give you with domain names, sub-sites, micro sites, SSL, and secure staff websites is unmatched.
Here is what you can do with EvoCloud:
Sub-Domains

Example - Create Sub-Domains for departments; police.yourcity.com , library.yourcity.com , etc. Point those sub-domains at pages in your site.

Domain Redirects

Example yourcitypolice.com points to the /police homepage in your website.

Sticky Domains - NEW AND GREAT!

These are a bit harder to explain, but they are the greatest thing to happen to domains in a CMS!
Creates multiple websites with their own domains within one main website.
Merge multiple websites together into one platform, with multiple domain name and multiple designs, all in one platform.
Using the police department example from the two previous domain examples, here is what you can do:

yourcitypolice.com is pointed at yourcity.com in our admin.
The redirect is set to be "Sticky" in our admin. Sticky domains are a special type of redirect.
The target is chosen for this new Sticky domain, in this case it is the /police page in the CMS, which would be the police department home page.
The police department home page uses a custom design template.
The police home page and interior pages have their own custom design.
The police templates use their own menus, thus "trapping" the visitor in the police section of the city's website.
To the end user, the yourcitypolice.com website is its own standalone website.
NO ADDITIONAL HOSTING FEES.
Add unlimited pages to your website.
Visual editor - No need to know HTML
Drag and drop media management
Unlimited Page Layouts
Widget Manager for Drag-and-drop applications into pages
Friendly URLs everywhere
Multiple URLs per page - useful for tracking promotions, handling mispellings.
Paste content from Microsoft Word.
Search Engine Optimization (SEO) features.
EVERY save is version controlled - system creates backups of every save to every page!
Permissions down tot he page level.
HTML Code access to all pages for HTML experts.
Delayed Publishing
Page Expiration
Layout Template Chooser - One-click template change per page and application
Evo Cloud Page Editor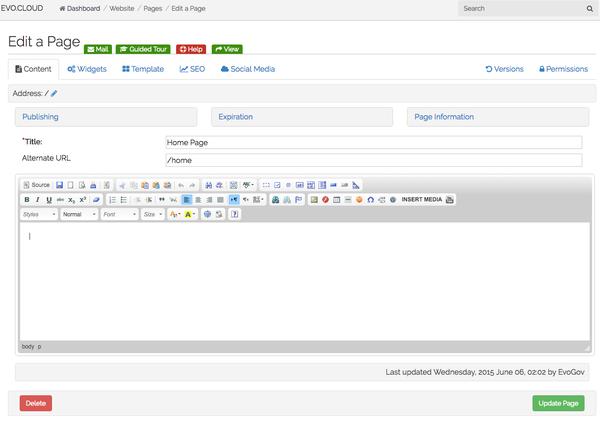 Add applications to pages with zero programming experience
Add a custom Google Map to a page, showing layers and location points
Add a Map Location to a Page.
Add a Map Layer to a Page.
Staff Directory List
File Lists (great for displaying synchronized file archives)
Slideshows
Video Player with playlist
Audio Player with playlist
News Box
Calendars
Menu for drag-and-drop applications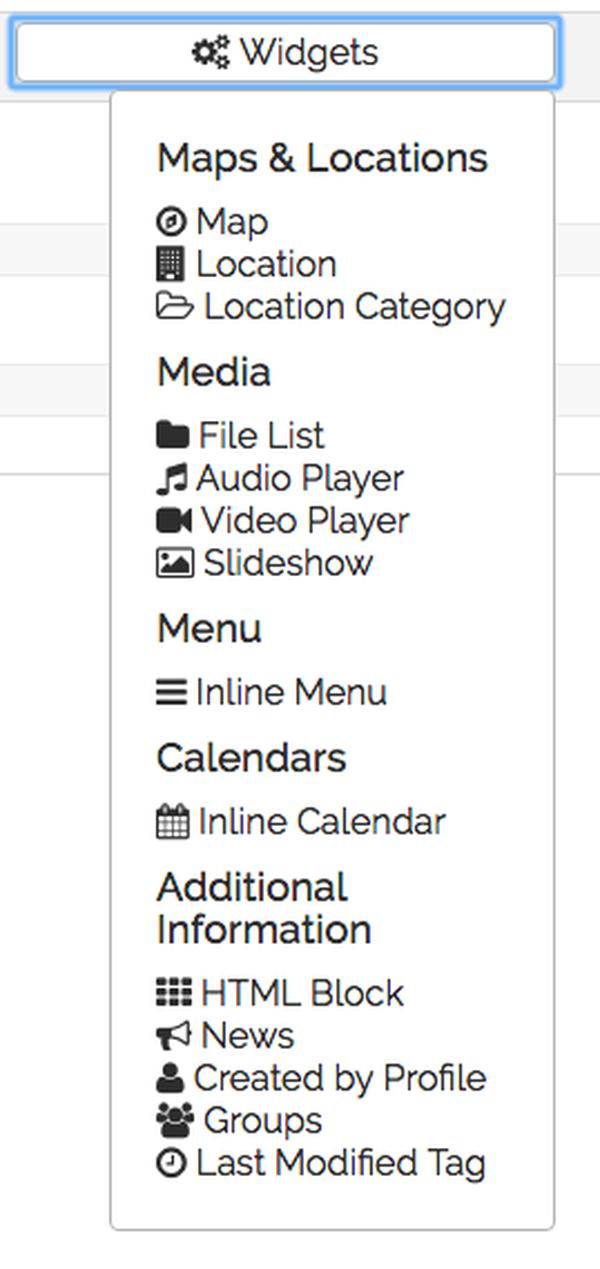 File Manager for your Website
Unlimited Files and Folders
Multi-File Drag and Drop
Real-time Image Editor

Resize (percentage or pixel sizes)
Crop
Flip
Restore (restores original file)

Drag and Drop PDFs and any other file type
Friendly Names on all files for file lists in pages
Replace a file and all links in your website change automatically.
Seachable PDFs and Office Documents
Live previews
Drag photos into media library
Custom sizes for slideshows
Embed slideshows into any page
Show or hide slideshow controls
Responsive / Mobile slideshows
Add titles and sub-titles to slides
Add action buttons to slides
Position action buttons in custom locations per slide
Works with custom templates to add custom slideshows to department pages.
Push to Social buttons on all content.
Live Twitter Feed Embed
Live Facebook Feed Embed
Built-In Video Player with Playlists
YouTube Embed feature in any content (Pages, FAQs, More).
YouTube Channel Embed
Video Live Meeting Streaming
Manage links and navigation areas across your website easily.
Mega Menu Builder (large Multi-Column Menus)
Action Button Options for Mega Menus
Side Menu Builder for Pages
Custom Menus per section or department
Action Button menus using Glyph Icons from our built-in Content Delivery Network (CDN) for code
Mega Menu with multiple columns and native action buttons on each panel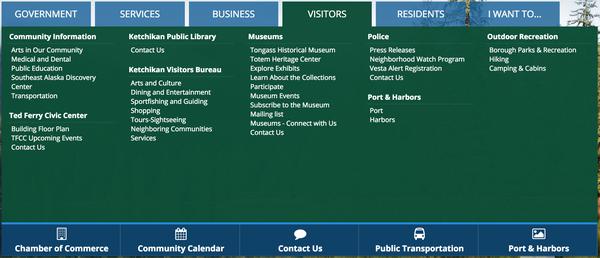 Action bar menu using glyph icons - over 5000 icons provided in our system


The calendar system in Evo Studios is robust.
Unlimited calendars in your website.
Setup calendars for groups, departments, committees, and boards with their own permissions.
Clone events for up to a year with easy recurring event interface.
Events are rich and allow multimedia - add images, file links, hyperlinks, videos, and more to your events.
Special /Agendas and /Meetings interface built-on to show upcoming meetings with file attachments.
Embed calendars anywhere in the site.
List, Day, Week, Month, and Year views.
Push-To-Home-Page feature for important events.
Community Calendars enable event suggestions - Community groups can suggest events for your calendar that you can approve.
ICAL subscriptions - get notifications when new events are added to a calendar.
RSS Feed Generator for calendars.
Dedicated meetings page showing upcoming meetings and the agendas, packets, adn other files.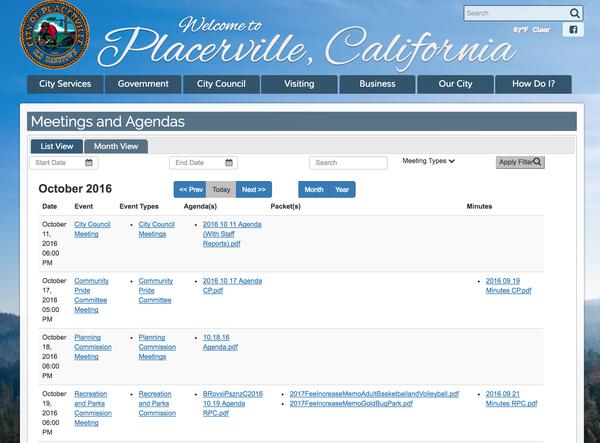 Unlimited separate news areas
Unlimited news postings
Security on each news area
Push-To-Home-Page option for important news.
Multiple Display Options

Show news items in a paginated list.
Show news in a news slider box (great for home pages.

Search engine for searching news.
RSS Feed Generator for news areas
Home page showing the News Slider in the bottom left.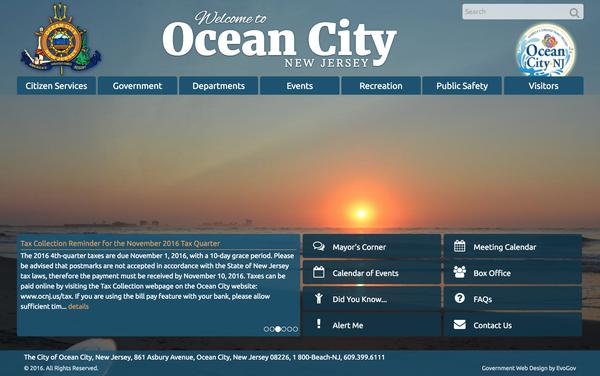 Master Map - A Global map is automatically generated for your website at the "/maps" address, showing all layers.
Custom Maps - Generate custom maps with any combination of locations and layers you wish.
Map Layers

Create map layers for office buildings, parking lots, parks, historic locations, there is no limit to the layers.

Map Locations

Moveable pin locations, for places that don't have a street address.
Create individual Map Locations , creates a special landing page in the site for each Location.
Photo Gallery on each Location.
News items tied to that location are show.
Events tied to that location are shown.
Ability to link to a location, or embed it into a page.
Create your own custom departmental home page and content page (interior page) layouts by department
Create custom landing pages for departments, groups, committees, events, promotions, and more.
Custom layouts and department pages can have their own domain names (no extra charge).
Complete code access and version control of updates right in the admin.
Custom CSS, colors, fonts, scripts, and more right in the admin.
Security per template.
Create Job Postings by Department
Interfaces with the User Portal so that your customers can sign up for job posting alerts.
Allows applications to apply online
Uploaded resumes are stored.
Database created of all applicants for each job.
Export database to Excel in the admin.
Automatic emails to multiple staff.
Create scrolling alerts that appear across the top of your home page, an interior page, or across your entire site.
Create pre-made mass emails for emergencies.
Create emergency home page designs that can be deployed in seconds.
Create pop-up messages for alerts.
Create slideshows that can be shown or hidden if there is an emergency.
Create an emergency menu system that has links to important public safety information.
Communications Officer Interface coming in 2017 for sending mass text messages.
Traffic reports from Google Analytics and Clicky.com built in easily.
Language Translation for many languages using Google Translate.
Live chat options are available.
All sites come with a Customer Portal, where your customer can create an account, log in, and sign up for services.
Create an account
Subscribe to Email Newsletter Topics
Subscribe to Job Postings by Department
Subscribe to Bid Notifications by Bid Category
Submit Bids to the Bid System
Update contact profile
Manage RSS feeds
Create Bid Categories
Create Bid Postings
Track views on bids
Turn on/off signup to view bids
Track bid downloads
Accept bids online securely
Prevents staff from viewing bids early.
All changes and additional files added to bids are mass e-mailed to all parties automatically
Bid list is displayed in the website automatically
Newsletter system comes built-into the platform
Create and manage email newsletter topics.
Opt-Out system
Reports show how many people open the emails, without the need for a read receipt.
Delivery of mass emails is billed separately at a rate of $1 per 1000 emails sent.
311 System
GIS Mapping
Meeting Streaming / Recording
Role-Based Systems
Mass Text Messaging